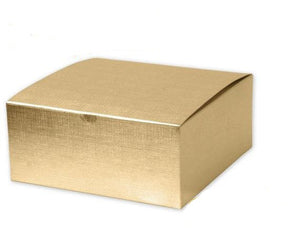 Our Large, 8" x 8" x 3", Upscale Gold Foil Linen Gift Boxes are the Highest Quality and will make your presentation Deluxe with an Elegant Upscale Look. They are laminated with a high shine, and embossed with a Linen Pattern.
One Piece Construction, Well made, Upscale, Premium Packaging!
Easy to Make up, they fold into shape, heavyweight, laminated metallic paper/cardboard.