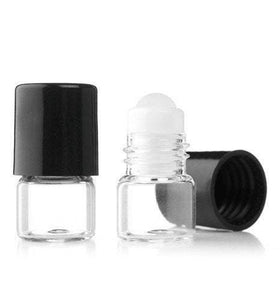 Just What you Needed!! These are the 1ml Sized Glass Sample Roll- On Bottles that Everyone's been looking for! And THEY HAVE GLASS ROLLERBALLS!
SAFE FOR ALL ESSENTIAL OILS
We supply these mini micro glass roll on bottles in only 1ml size. we also supply Dram (3.7ml) , 10 ml (1/3 Oz), and 3.7 ml (Dram) sizes.
These Bottles come with Pop in Glass Roller Balls and Black Caps, a Funnel and Pipette to help you fill them.
♦♦♦♦ These Bottles are ideal for packaging sample or travel sizes of personal care products such as , perfumes and breath fresheners and Lip Balms. It's always a good idea to test a bottle with your product before purchasing a large amount of bottles. -- We advise testing each oil blend before filling your bottles. Thank you. ♦♦♦♦
Bottles each hold about 25-30 drops of essential oils.
They work very well!
If you want to share your product with friends, or sell it, these are great.
You will also be supplied with Plastic Pipettes to help you decant your liquid into these bottles.
If you need another Quantity, Please Convo me for a Private Listing!