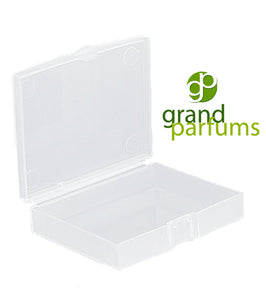 A perfect container for your own concoctions, or for storing your pins, beads, lip glosses, lip balms or stashing anything.
Holds 5 1ml vials beautifully, so this is the perfect essential oil sampling box.
PET, BPA Free.
Natural Polypro Plastic
47 mm 57 mm 14 mm
1.85" x 2.24" x .55"
perfect for just about anything, and for storing your, mineral makeup.....solid perfumes, Beads,
Stash Jars, Etc....
Great Quality Product!
If You need a Travel Jar, this is the way to go! . And,
If you have a small private label fragrance business, a gift shop or boutique, these jars will certainly dress up your products, and look great in your shop.