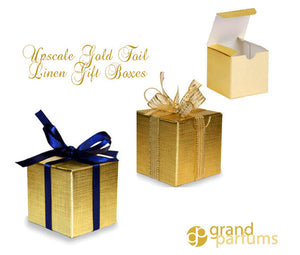 Gold Foil Linen Gift Boxes for that Deluxe Elegant Upscale Look.
Dress Up your Packaging! Perfect for Favor, Wedding, Candle Boxes Candy, Holiday,Bridal Showers, Wedding Favor
As the boxes measure 4" x 4" x 4", they will fit many different products. we also now sell this laminated box in small, medium and large sizes.
One Piece Construction, Well made, Upscale, Deluxe Packaging!
Easy to Make up, they fold into shape,
heavyweight, laminated metallic paper/cardboard