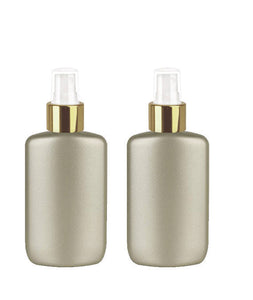 Stunning, Useful HDPE Dispenser Bottles for all your DIY and Private Label Packaging!
.
Our 60ml Champagne Gold Oval Shaped Bottles with Golden Fine Mist Atomizers are Just the Thing for you!
Coming in a beautiful soft colored plastic, they both give you a Modern and/or a Vintage Appearance to Update your Product Line. Just add a Label, and You've got almost any look you want, and you can Easily Distinguish Your Packaging!
Grand Parfums 2 Oz Pearly container for your own concoctions, and what a Beautiful way to present your products to your customers too!
These pretty 2 Oz bottles distribute spray with liquid product with just a pump, and when done, nothing will leak!