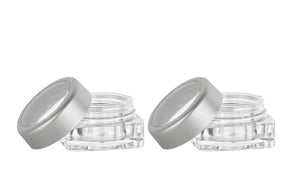 a Silver Window jar, in acrylic with an HDPE insert and lid. A safe way to store and to distribute your cosmetics, lip gloss, lip balm or give samples to your customer.
These are Beautiful, Useful Clear and Silver Empty Cosmetic Jars,for lip products, eye shadow powders, samples. A Beautiful way to present your products to your customers too!
Elegant way to distribute your product, or travel with a bit of your favorite products.
These 5gram, 1/6 Oz jars are perfect for smaller amounts.
perfect for traveling with just enough product. and for storing your, ear studs, mineral makeup.....solid perfumes, Beads,
Stash Jars, Etc....
Great Quality Product!
If you have a small private label fragrance business, a gift shop or boutique, these jars will certainly dress up your products, and look great in your shop.