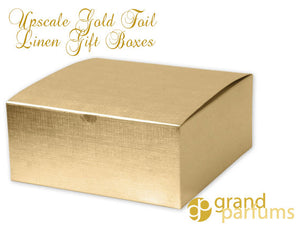 Looking to Dress up a Gift? Need Boxes for Favors, Showers, Holiday Gift Giving?
Our Large, 8" x 8" x 3", Upscale Gold Foil Linen Gift Boxes are the Highest Quality and will make your presentation Deluxe with an Elegant Upscale Look. They are laminated with a high shine, and embossed with a Linen Pattern
Dress Up your Packages! This Large Box couldn't be more Perfect for Favors, Wedding Gifts, Large Candles, Sweaters, Holiday Gifts, Bridal Showers
Our Large boxes measure 8" x 8" x 3". This will accommodate many different products. We also now sell this same Gold box in small, medium and large sizes.
One Piece Construction, Well made, Upscale, Premium Packaging!
Easy to Make up, they fold into shape,
heavyweight, laminated metallic paper/cardboard