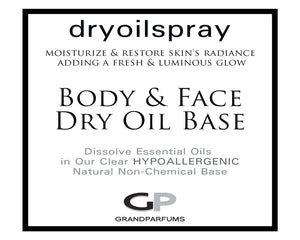 Our Newest Base. Just add Your Essential Oils,
Make a Spray which you can apply to your face or your entire Body.
With the cooler weather coming, this is just lovely.
It goes on dry, and leaves you with glowing skin. Your skin will radiate!
It will arrive with No Scent.. You can add the scent to it, and there are no restrictions as to the combination of oils to use.
Dry Oil Blend is a PREMIUM Essential Oil Spray Mix, Natural PERFUME and Oil Spray BASE, with NO SCENT! , Your Oils will Disappear and Fully Dissolve in our Liquid, Never Shake Again, Mix like a Pro.
Shake at first, and your oils mix in permanently, and won't float, won't rest at the bottom, and won't stay in globs of oil, waiting to be broken up again by shaking, over and over again.
Our Dry Oil Blend is Perfect for Mixing and Spraying Essential Oil Blends! This will make you a pro at making Perfumes and Colognes. Use our oil base for all Fragrances, Perfume, or any other Scent!
Our Dry Oil base is primarily DPG and Cyclomethicone. The other ingredients are proprietary.
Our Base is PARABEN, PHTHALATE and SULFATE FREE, and HYPOALLERGENIC.
High Quality. with NO SCENT..
We will ship the liquid in an Cylinder bottle with a Screw Cap.