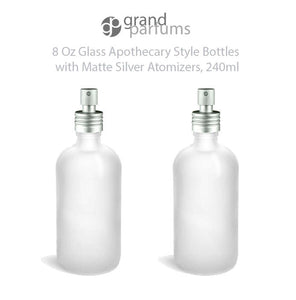 The perfect Apothecary Bottle, 240ml, 8 Oz, Frosted Clear Boston Round Glass Bottles, with new Metallic Aluminum Matte Silver Atomizer Caps, Fine Mist Spray lids.
Perfect for protecting and storing your valuable Essential Oil Blends, Bathroom Sprays, Perfume, Colognes., Argan Oil, Beard Oil, Medicines, Serums, etc.
these bottles are refillable too .
These are the perfect solution to precision distribution of your products, and for spraying out essential oil perfume blends !
Make Perfumes and Blends like a pro, by measuring exact amounts.
You'll love using these!
And, all of these glass bottles are UV resistant, to keep your oils fresh and stop degradation from harmful light.
Well Made Glass Construction.