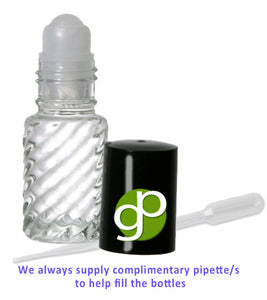 These 5 ml, or dram sized Roll on Bottles, or Roller Bottles are the perfect solution! A bottle that will preserve your perfumes, serums, perfumes, and EO/Essential Oils, and act as an applicator too!
Perfect for all essential oils and aromatherapy products..
If you've been searching for a bottle in which to store Cologne, Perfume, Perfume oils, Rose Hip Oil, Argan Oil, Essential Oils, Jojoba and other Carrier Oils, facial serums, and your tonics, this is perfect. Also used for your Bath Oils, Perfume Oils, Bath and Body products, and many other natural or organic products.
♦♦♦♦ These Bottles are ideal for packaging sample or travel sizes of personal care products such as , perfumes and breath fresheners and Lip Balms. It's always a good idea to test a bottle with your product before purchasing a large amount of bottles. -- We advise testing each oil blend before filling your bottles. Thank you. ♦♦♦♦
Bottles each hold about 100 drops of essential oils. (dram bottles are often referred to as 5ml in the trade, although a dram is actually 3.7ml).
We also have other sizes!