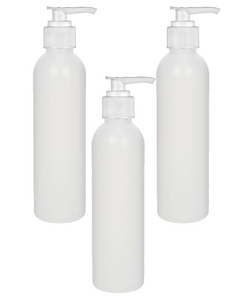 TRUST GRAND PARFUMS BOTTLES TO SHOWCASE YOUR HAND SANITIZER AND SOAPS ALL AROUND YOUR HOME IN GORGEOUS BOTTLES!
HERE, IN A LOVELY WHITE  PLASTIC, WITH WHITE LOTION PUMP. 

6 OZ IMPERIAL ROUND CYLINDER SHAPE

A PACK OF 6 BOTTLES: Perfect for Soap, Shampoo and Hand Gel, These Beautiful Plastic Bottle Will Sit on Your Bathroom or Kitchen Counter and Store Your Hand Gel, Shampoo or Soap/ With a Quick Pumping Action, your favorite Liquid is Easily Dispensed

NON-TOXIC BPA PLASTIC: Our Bottles are proudly made and shipped in the USA, and they are BPA-Free Plastic, which means that they are food safe, There are no harmful Chemicals in Our Plastics, and You can use Essential Oils in Your Formulas! This Pretty Bottle holds a generous 6 Oz

LOCKING HEAD: Pump Out what you need, wherever you are for Lotion, Gel, Soap. Easy to Use, and Close. Locking Pumps. Use for, Gel or Even Suntan Lotion. Unlock by pressing down and twisting counter clockwise

UNISEX - UPSCALE LOOK: Upscale cosmetic packaging, feminine and masculine, elegant, luxury look

REFILABLE, REUSABLE BOTTLE, WITH IMPACT RESISTANCE: Elegant, Upscale Look With White Pumps Controls Each Time You use the Dispensing Cap. The bottles are Reusable and Refillable.