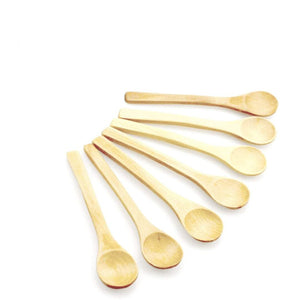 100 Mini Bamboo, Spoons - Ecological Green Bamboo! Highly Polished and fully recyclable

Our 5" spoons are bamboo and have no oil or lacquer on them.

Packaging, Cosmetic, and Food Safe Spoons or Scoops, to dress up Your Private Label Cosmetics, Scrubs, Creams, etc.
or to portion out candies, or other hard items.
The perfect way to Enhance and Complete the Luxurious Look of Your Jars.
Elegant way to distribute your product,
.
perfect for powders, blush,Salt and Sugar Scrubs, Lotions, Beads,...
If You need a scoop for a Jar, this is the way to go!

♦♦♦♦ These Bottles are ideal for packaging personal care products. It's always a good idea to test a container with your product before purchasing a large amount of an item. -- ♦♦♦♦