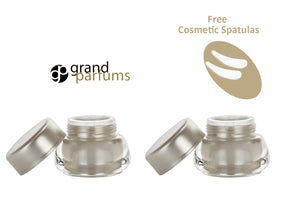 In Stock Now,and Ready to Ship!
A perfect container for your own concoctions, or for storing your Face Creams, Eye Serums, Eyeshadows, , Hand Cream,Lip Scrub, Beard Oils and Creams, Salves, Bath Salts, Hair Conditioner,
Acrylic Plastic in a Gorgeous Gold Champagne and Clear Colorway, 2 piece sets.
These are simply elegant Empty Cosmetic Jars,for powders, samples. A Beautiful way to present your products to your customers too!
Elegant way to distribute your product, or travel with a bit of your favorite products.
These 7gr, 7ml, 1/4 Oz jars are perfect.
perfect for just about anything, and for storing your, mineral makeup.....solid perfumes, Beads,
Stash Jars, Etc....
Great Quality Product!
Clear/Champagne thick wall tapered round 28 mm clear acrylic jar w/ footed base, champagne inner & white PP inner bowl. Cap is champagne with foil liners
Cosmetic jar measures:
1.25" high including neck x
1 5/8 in wide at bottom x
1 3/8 in. wide at top.
If You need a Travel Jar, this is the way to go! . And,
If you have a small private label fragrance business, a gift shop or boutique, these jars will certainly dress up your products, and look great in your shop.