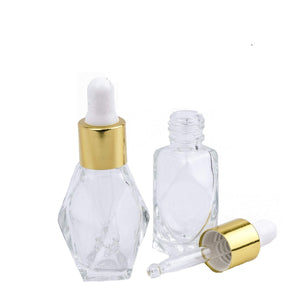 We Know you'll love Our Newest PREMIUM 7.5 ml SQUARE Dropper Bottles, in Clear.
They come with Gold or Silver Dropper Caps,
Perfect for Sampling Essential oil Blends, Perfumes, Eye Serums and Other Eye Treatments as Well as HEMP  OIL preparations.
Wonderful for Upscale Packaging, Gift Giving, or showcasing your own products.
These Bottles are ideal for packaging sample or travel sizes of personal care products such as , perfumes and breath fresheners and Lip Balms. It's always a good idea to test a bottle with your product before purchasing a large amount of bottles.