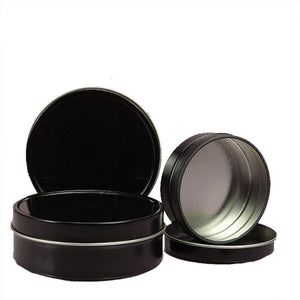 Seamless Black Tins, with Stunning Silver Trim.
These are the perfect tin for tobacco, mints, beard balm, lip scrub party favors, a spot of tea, lip gloss, hair wax, or any thicker cosmetics which need upscale packaging. The perfect look for more masculine products
A Beautiful way to present your products to your customers too!
Elegant way to distribute your product, or travel with a bit of your favorite products.
These 15gr, .5 Oz jars are perfect.
perfect for just about anything, and for storing your, mineral makeup.....solid perfumes, Beads,
Stash Jars, Etc....
Great Quality Product!
These are waterproof, when shut, however, water may rust them, so product testing is necessary before filling a large number of tins.
If You need a Travel Jar, this is the way to go! . And,
If you have a small private label fragrance business, a gift shop or boutique, these jars will certainly dress up your products, and look great in your shop.