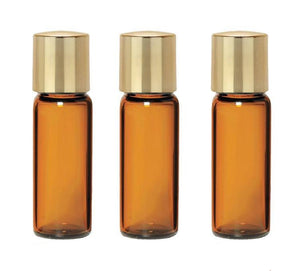 These Beautiful Amber Glass Bottles are Perfect for storing and distributing Essential oils, Blends, Perfumes. Serums, Medicines, and great for Traveling
CHOOSE THEM AS STORAGE BOTTLES, OR ADD ORIFICE REDUCERS!
with Gorgeous Gold Caps to Dress up Your Products
These small dram sized glass bottles are perfect for holding almost any liquid, and they protect your product from UV Light.
Each Comes with a gold plastic cap
perfect for essential oil storage and other liquids
great for serum samples.
They Measure . ½" wide x 1 5/8" tall (without cap).
and Hold 1 Dram of oil. about 1ml of liquid
(3.7 ml; ¾ tsp).
Neck Size: 13-425