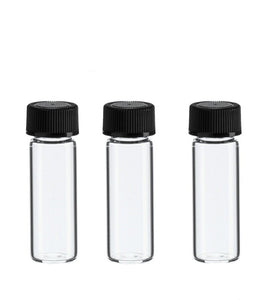 Our 3.7ml Glass Bottles are the Perfect Size for Essential oils, Blends, Perfumes.
These small dram sized glass bottles are perfect for holding almost any liquid, and they are wonderful for handing out nice sized samples to customers and sharing with friends
Each Comes with a black polypropylene plastic cap.
perfect for essential oil storage and other liquids
great for serum samples.
These Dram Sized Glass Vial is interchangeable with our 1/4, 5/8, Dram and 1.5 Dram Sized Vials, and will accept orifice reducers.

You'll receive
18 Glass Bottles
18 Black Caps