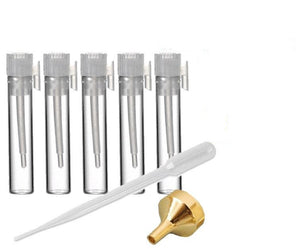 200 Short glass perfume sampler vials with plastic wand lids. These are perfect for sampling perfume, cologne or oil in clear glass vials.
FREE PIPETTES AND FUNNEL!
These tiny 1/6th dram sized glass bottles are perfect for holding almost any liquid.
Each Comes with a snap in plastic tight fitting cap with a wand.
8mm X 35mm
Often seen holding sample sized perfumes.
This listing is for 200 bottles and caps
Glass Sample Perfume Vials
Glass with Plastic Tops and Wand for Applying Fragrance
These Vials will hold .7 ml of Perfume
the Perfume Industry often calls these 1ml Vials, although they do hold less
and FREE PIPETTES TO HELP FILL THE VIALS.