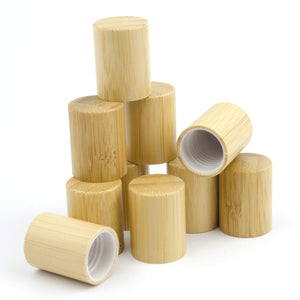 These are the Upscale, Elegant NATURAL BAMBOO Caps Everyone's asked for!
They fit all ALL our standard 5ml and 10ml Glass Roller Ball Bottles. and Now We offer them to you at a wonderful Price!
Cap your bottles beautifully, make a great presentation, and have A bottle that you can Present to your Friends, you Customers, your Clients and Guest that you will be Proud of.
Have your Product Stand out Among all the other Products out there!
Make Your Brand Special!
Create a Look! Branding for Women, Unisex, Natural Products.
Perfect for all essential oils and aromatherapy products..
If you've been searching for a new cap for your bottles in which to store Cologne, Perfume, Perfume oils, Rose Hip Oil, Argan Oil, Essential Oils, Jojoba and other Carrier Oils, facial serums, and your tonics, this is perfect. Also used for your Bath Oils, Perfume Oils, Bath and Body products, and many other natural or organic products.