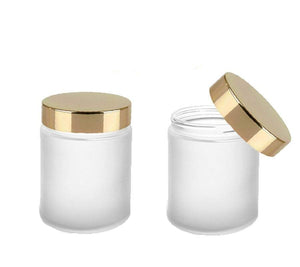 A perfect 120ml Glass Jar, in Frosted Glass or Clear Glass, to protect your products.
This is a beautiful glass cosmetic container for your own concoctions, or for storing your Sugar Scrubs, Salt Scrubs, Body Lotion and Creams, Salves, Bath Salts, Hair Conditioner,
Now, with Metallic, Upscale Luxurious Caps, in Shiny Gold, or Subtle Matte Silver
These are simply elegant Empty Glass Cosmetic Jars,for powders, samples. A Beautiful way to present your products to your customers too!
Elegant way to distribute your product, or travel with a bit of your favorite products.
These 120gr, 4 Oz jars are perfect.
perfect for just about anything, and for storing your, mineral makeup.....solid perfumes, Beads,
Stash Jars, Etc....
Great Quality Product!
If You need a Travel Jar, this is the way to go!