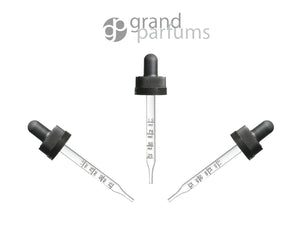 Measure like a pro!
Our Reusable , High Quality Glass Droppers are Perfect.
these graduated glass pipette droppers are made to fit 1 Oz Boston Round Glass Bottles, with a 20-400 Thread.
Make Perfumes and Blends like a pro, by measuring exact amounts.
Measure E-Liquids, Oils, Carrier Oils, Anything Liquid
You'll love using these!
Choose our glass bottles (to go with these), which are UV resistant, to keep your oils fresh and stop degradation from harmful light.
Well Made Glass Construction.