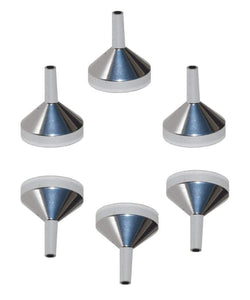 Perfect for pouring liquids into bottles and vials, and using to spraying into a small bottle.
Perfect for oil and perfume transfer, when you need to have more control over the liquid you are dispensing.
These are inexpensive enough to be fully disposable, and help with accuracy in transferring liquids. They clean easily with water or alcohol.
Easy to use, just insert in the bottle neck and pour or spray into the bottle.
Let us know If you need another Quantity, Please Convo me for a Private Listing!
For 3ml, 5ml & 10ml Atomizers in Lots of 6, 12, 24 and 48 .
and for Glass Perfume Vials and Bottles