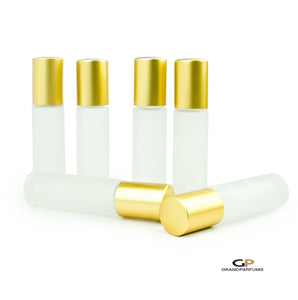 These 10 ml, or 1/3 Oz sized FROSTED GLASRoll on Bottles are the perfect solution! A bottle that will preserve your perfumes, serums, perfumes, and EO/Essential Oils, and act as an applicator too!
This listing comes with Stainless Steel RollerBalls and our NEWEST GORGEOUS MATTE GOLD CAPS!
Perfect for all essential oils and aromatherapy products..
and, being Frosted, no UV rays can hurt your expensive Essential Oils or Blends
♦♦♦♦ These Bottles are ideal for packaging sample or travel sizes of personal care products. It's always a good idea to test a bottle with your product before purchasing a large amount of bottles. -- ♦♦♦♦
Bottles each hold about 200 drops of essential oils. Each bottle will hold a capacity of 10mL or 1/3 Oz of Liquids.
We also have other sizes!
Each order comes with at least 1 free dropper/transfer pipette