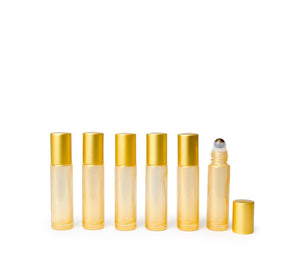 And NOW! GOLD SHIMMER Rollers!
We Know you'll love Our Selection of Specially Colored, Gold Shimmer Glass, 10ml Glass Bottles with Natural Yellow Tiger Eye Crystal Gemstone Roller Tops, . This Bottle and Crystal Gemstone Rollerball is Paired with Our Specially Selected Light Matte Metallic Gold Caps.
... We are certain that you will love the selection we have chosen for you.
You will find other selected groupings and Color Combinations in our site here at Etsy.
THE CRYSTAL ROLLERBALLS:
Yellow Tiger Eye is a powerful stone that helps you to release fear and anxiety and aids harmony and balance. It stimulates taking action, and helps you to make decisions with discernment and understanding, and unclouded by your emotions. Tiger's Eye is a powerful solar stone of courage, strength, will and personal power. It is ideal for shoring up one's inner strength, courage and self-confidence in order to tap into one's personal power. It is a stimulating stone, replacing lethargy and procrastination with enthusiasm and motivation, unblocking creative energy and inspiring one's inner entrepreneur.
It is a perfect stone for the SOLAR PLEXUS
These are 10ml Roll On Bottles. 1/3 Oz., They are Perfect for all Your Travel and Purse Needs. You can put Fragrance, Cologne, Lip Balm, Lip Gloss or Essential Oils in them
♦♦♦♦ . ♦♦♦♦
Bottles each hold about 200 drops of essential oils.
Works great once you start the roll going.
Wonderful to give as a gift!