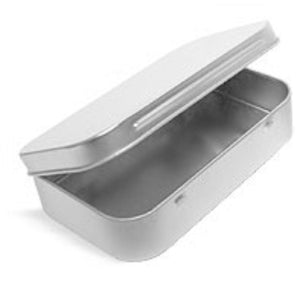 Set of 75
Altoid Tins - With HInged Tops
Large Size
will hold 3 Oz of spices
Storage Container, great for all Crafts, Geo-Caching, Stash Box,
Tight Seal, can be used in Survival Kits, Lightweight, fits in a Pocket
great for purse, pocket, travel, or just storing your favorite products, Can be Used for Homemade Lip Balm and Wax Products
Lgt. 98mm Wd. 63mm Hgt. 21mm, Lgt. 3.86" Wd. 2.48" Hgt. 0.83"
Great for Survival Kits, Organization, Herbs, Pills, etc.
These rectangular hinged top containers are Thin, shallow, "tin" (steel) containers. The covers are Hinged on the Back, and close easily. These containers are smooth, with no sharp edges, having been formed without seams, using .24mm metal. The edges are all rounded. Price includes container and cover, which are shipped assembled. We take the Dimensions as outside measurements. These cans are made of 100% steel They do not have any inside lining, therefore caustic substances may cause the steel to rust.
Uses For Storage
- Geocaching
~ Spices
~ Salts, Peppers
~ Lip Balms, Salves
~ Dry Rubs
~ Herbs
~ Buttons
~ any thing small
If you need another Quantity, Please Convo me for a Private Listing!