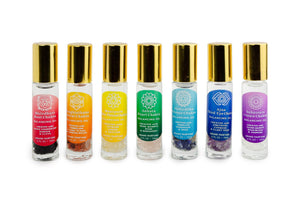 Which selected the finest essential oils and gemstones to resonate with the Chakras and help balance all of the most important levels. Everything is hand picked and natural and hand blended. The scents are divine. This Listing is for Our Full Balancing Set!
We Know you'll love Our Roll on Bottles, in Carefully Blended with Essential Oils and Tumbled Gemstones to Balance your Chakras
They come with Gold Caps, and Glass Roller Balls.
Choose From Crown, Third Eye, Throat, Heart, Solar Plexus, Sacral, Root Chakras.
We are sure this will help you to Balance and Heal.
Wonderful for Upscale Packaging, Gift Giving, or for your own use.
These premium rollers are much easier to roll, and will work better with almost all blends. They are Perfect for all Your Travel and Purse Needs. Coming in so many options, we know you'll find your favorite! They Have a very nice Weight to them. They're perfect for purse or for taking your fragrance and oils with you on the go..
Perfect for Office or for Travel, Almost impossible to break
Bottles each hold about 200 drops of essential oils.
Works great once you start the roll going.
Wonderful to give as a gift!
Order As Many as You Like,