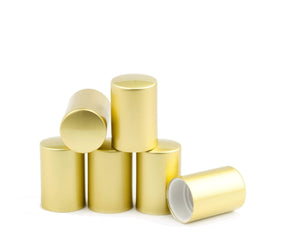 New! 22Kt LIGHT GOLD Roll On Bottle Caps LUXURY Aluminum Replacement for Std. 5ml & 10ml Glass Roller Ball Bottles Shiny Pale Gold Finish
They fit all our Frosted Clear, Amber and Colored (5ml, 4ml), Dram and Standard 10mL 1/3 oz glass Roll on Bottles! Cap your bottles beautifully, make a great presentation, and have A bottle that will preserve your perfumes, serums, perfumes, and EO/Essential Oils
Perfect for all essential oils and aromatherapy products..
If you've been searching for a new cap for your bottles in which to store Cologne, Perfume, Perfume oils, Rose Hip Oil, Argan Oil, Essential Oils, Jojoba and other Carrier Oils, facial serums, and your tonics, this is perfect. Also used for your Bath Oils, Perfume Oils, Bath and Body products, and many other natural or organic products.